YUKI NO MATSUSHIMA Umakara Junmai Shu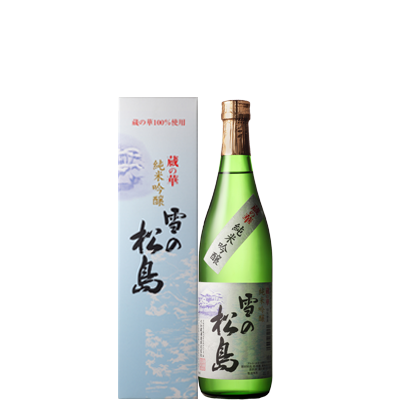 YUKI NO MATSUSHIMA
Kura no hana Junmai-Ginjo
Taiwagura Brewery Co., Ltd. priced gold medal at The Fine Sake Awards Japan 2019 sponsored by The Fine SAKE Awards Japan Executive Committee.
Premium Junmai Category Gold :
YUKI NO MATSUSHIMA Kuranohana Junmai-Ginjo
The Fine Sake Awards Japan (main category) Gold :
YUKI NO MATSUSHIMA Umakara Junmai Shu
In this award will aim to spread SAKE beyond the boundaries of "generational", "business style" and "country" and this year is the ninth year.
This award received 883 entries from 250 companies, and we entered 2 items of our SAKE product "YUKI NO MATSUSHIMA".
Japanese food is widely recognized overseas, and a culture of drinking not only Japanese food but also local cuisine and SAKE is being born. Under these circumstances, we are focusing on selling sake overseas, and we will strive to create new demand for SAKE and provide delicious one to everyone.
The SAKE Award, Japan 

CONCEPT

Japanese cuisine including sushi, which first gained popularity in the US and Europe, is now widespread all across the globe and easily enjoyed in many cities in the world. During the process, sake interacted with foreign cultures and diets, which resulted in inventions like new combinations of sake and food. The best finding, however, was the advantage of drinking a wineglass of sake. Fragrance and visual effects of sake will be highly appreciated that way.

Wineglass helps you sense subtle aroma, colors, and viscosity of sake which you could not fully recognize in traditional sake vessels. Many Japanese were amazed to know that a glass of sake, in some cases, tasted more graceful than a small cup of sake. The wineglass, extracting inner characters of sake, did turn out to be its best partner and is expected to further prevail.

The Fine Sake Awards Japan does not solely focus on assessing the quality of sake. This blind tasting competition is supported by specialists who recognized the advantage of sake in a wineglass and joined hands to promote the popularity of sake and its culture not to mention spreading the new wonders of sake.

This event, inaugurated in 2011, has become one of the biggest sake competitions in Japan with about 200 breweries nationwide handing in some 300 items in total.

We sincerely hope our endeavor will go a long way and sake in a wineglass will become widespread. We believe this will help Japan's soul beverage sake recognized more and its culture handed down to future generations.